A New Model in Higher Education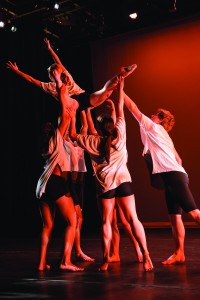 Our UMBC community redefines excellence in higher education
through an inclusive culture that connects innovative teaching
and learning, research across disciplines, and civic engagement.

THINK CREATE ENGAGE
With its new, state-of-the-art facilities and venues, the award-winning Performing Arts and Humanities Building (PAHB) welcomes people throughout greater Baltimore and the region to participate in UMBC's vibrant cultural life. The Proscenium Theatre and Black Box Theatre feature productions by UMBC's award-winning theatre department —one of the most frequently invited college theatre programs to perform at the Kennedy Center. Other PAHB venues hosting dozens of lectures and performances annually include the Earl and Darielle Linehan Concert Hall, a visually striking space with outstanding acoustics. The PAHB is also home to the James T. and Virginia R. Dresher Center, which hosts the Humanities Forum, a series of talks by nationally known experts in philosophy, history, culture, language, literature, and the arts.

"Your example is so important…. many colleges—most colleges—have not figured out how to do as good a job as UMBC at enabling all students to reach their highest potential…. You show the world what is possible."

– Drew Gilpin Faust
President, Harvard University
UMBC commencement address, May 2016

INCLUSIVE EXCELLENCE IN "STEM" EDUCATION
Driven by a commitment to inclusive excellence, UMBC is a national leader in developing successful, innovative models to prepare tomorrow's professionals in science, technology, engineering, or math (STEM). We develop new approaches by building on lessons learned and leveraging proven elements of our existing programs —supportive peer networks, applied learning and internship placements, rigorous undergraduate research preparation, and living/learning communities, among many others.
UMBC is the nation's #1 producer of African American undergraduates who go on to complete M.D./Ph.D. programs. UMBC's Meyerhoff Scholars Program—the "gold standard" for increasing the number of underrepresented students earning STEM Ph.D.s—is being adapted at UNC-Chapel Hill and Penn State with funding from the Howard Hughes Medical Institute.
The Center for Women in Technology (CWIT) is a national model for increasing the representation of women in engineering and information technology. This successful program offers mentoring from faculty and professionals working in the field, internship and research opportunities at major companies, and academic and scholarship support. The program also conducts programs in Baltimore-area schools to increase girls' interest in technical careers.
STEM BUILD at UMBC is an NIH-funded initiative to create a national model that broadens the range of students who complete STEM degrees. U.S. News & World Report has featured this new program as a promising, scalable approach to providing mentorship and research experience.
"We're doing something that nobody else is doing."

– Dr. Michael Summers, Robert E. Meyerhoff Chair for Excellence in Research and Mentoring, University Distinguished Professor of chemistry and biochemistry, and member of the prestigious National Academy of Sciences, as quoted in the New York Times article "Why College Rankings Are a Joke"
RESHAPING TEACHING
Forget crowded and impersonal lecture classes. Changes in the way UMBC faculty are teaching introductory STEM (science, technology, engineering, and mathematics) courses are increasing pass rates and creating more interest in STEM. Instead of taking notes and studying alone, students work together in small groups, sharing insights and solving problems in learning labs like the Chemistry Discovery Center.
These pioneering group labs are also inspiring new ways of learning across campus. For instance, the Retriever Learning Center, located in the Albin O. Kuhn Library, is a 24/7, 21st-century learning environment that offers space for individual and group learning. The center is student-driven, created in response to students seeking  a 24-hour study space.
UMBC's BreakingGround initiative encourages and supports courses and projects in which students can make practical, innovative contributions to the common good. The "Stories of Deindustrialization" radio series and "Mapping Baybrook" website grew from several courses that examined deindustrialization's impact on the relations between people, place, and community. Students learned about the value of supporting communities' own efforts to share their experiences by partnering with former Sparrows Point steelworkers and Baybrook community members to document local cultural heritage.

---
A CATALYST FOR THE PUBLIC GOOD
UMBC t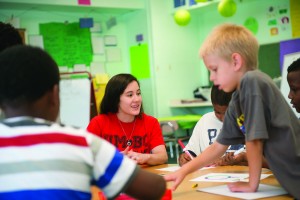 ouches lives throughout the greater Baltimore community and beyond—from growing sustainable seafood to helping people quit smoking to building partnerships that strengthen our schools.
STRENGTHENING SCHOOLS THROUGH PARTNERSHIP
As part of its far-reaching work to support Baltimore's public school students, teachers, and communities, UMBC has developed a deep partnership with Lakeland Elementary/Middle School in southwest Baltimore. With support from the Sherman Family Foundation, UMBC created a direct pipeline of teachers from its acclaimed Sherman STEM Teachers Scholars Program to work in Lakeland classrooms. It also built a network of active personal and community outreach programs spearheaded by the UMBC Shriver Center's Choice and Peaceworker programs. Since the partnership began, parent participation has increased and the school has begun focusing on health and urban gardening initiatives. This year UMBC, Baltimore City Public Schools, and the Northrop Grumman Foundation launched a partnership to expand the Lakeland work to two more city schools, while providing adult educational opportunities for local residents. The partnership will also boost science, technology, engineering, arts, and math (STEAM) education at Lakeland, where a new STEAM Center is expected to feature science labs, a makerspace, digital video and sound studio, computer lab, parent resource room, and community meeting space.
"We are going to work with our colleagues to prepare these children
to compete against anybody, anywhere in the world."

— Freeman A. Hrabowski, III, President, UMBC
on the Lakeland Elementary/Middle School Partnership
SERVING BALTIMORE
UMBC is a national leader in applied learning, civic engagement, and community-based service, and that commitment extends to the greater community. The Choice Program, based in the UMBC Shriver Center, provides personal and academic support for young people in contact with the juvenile justice system, and has served more than 20,000 youth and their families for over 27 years, with a success rate of 70-90% in combating recidivism. Participants have access to many programs, including weekly visits to UMBC's campus for social and academic support. Choice Jobs operates three Flying Fruit Fantasy stands in Baltimore City (including the ballpark) to provide on-the-job training and work experience.

SAFER AND STRONGER
UMBC is playing a crucial role in strengthening the nation's cyber infrastructure. "While national security interests are usually central to the security conversation," says UMBC's Center for Cybersecurity Director Anupam Joshi, "the center also works to meet the needs of individuals and businesses in a variety of sectors, such as health care and energy." UMBC collaborative ventures include:
Northrop Grumman Cync Program, a unique partnership between Northrop Grumman and the Cyber Incubator@bwtech, which offers rent-free space and business support at bwtech@UMBC for new companies with the most promising cybersecurity solutions
Accelerated Cognitive Cybersecurity Lab, a collaboration with IBM Research to advance scientific frontiers in cybersecurity and machine learning, in part by teaching Watson how to detect cybercrime
GROWING BUSINESS
The bwtech@UMBC Research and Technology Park, the first university-affiliated park in the state, grows ideas into thriving businesses. It houses Maryland's first cyber incubator—Cync, in partnership with Northrop Grumman—and 133 technology, bioscience, and research companies and organizations. The park generates $500 million in income and business sales, and tenant operations supported more than 2,500 jobs to Maryland annually, according to the Sage Policy Group.
HEALTH MATTERS
UMBC partnerships with the state, the University of Maryland, Baltimore, businesses, and community organizations are helping citizens in Maryland and beyond with some of life's most significant challenges
The state's smoking rate decreased from 23.4 percent to under 17 percent, thanks in part to professor of psychology Carlo DiClemente's work on the MDQuit program, a resource hub of tools for smoking cessation programs and best practices for health care providers. >> Learn more.
People with limited mobility may soon be able to call 911 or turn on a light by waving a hand over their arm or knee, thanks to sensors sewn into clothing developed by a team led by Nilanjan Banerjee and Ryan Robucci, assistant professors in computer science and electrical engineering, and Sandy McComb Waller, associate professor of physical therapy and rehabilitation science at the University of Maryland School of Medicine. The team also includes Waller's quadriplegic patients, who serve as consultants. >> Learn more.
Student teams led by Dawn Biehler, associate professor of geography and environmental systems, have spent several months canvassing Baltimore neighborhoods to collect data on mosquito populations and residents' contact with mosquitoes as part of the Baltimore Ecosystem Study. Their findings will inform new policy recommendations for better mosquito control to improve public health, particularly in low-income neighborhoods. >> Learn more.
FROM (FISH) FARM TO TABLE
The result of groundbreaking fish farming by the University System of Maryland's Institute of Marine and Environmental Technology (IMET) is being delivered to restaurants right in Baltimore. Yonathan Zohar, IMET director and chair of UMBC's marine biotechnology department, hopes to remove many of the pitfalls of conventional fish farming and increase environmental sustainability, dramatically changing how millions of people can access fish as a local food source. He and his colleagues have built the world's first self-contained system, enabling fish to thrive by carefully mimicking factors like temperature, salinity, daylight, and oxygen conditions found in the species' natural habitats. Zohar is currently preparing for his system to undergo commercial-scale trials. >> Learn more about the research.
CHANGING AGING
With one American turning sixty every eight seconds, the "graying of America" will touch all aspects of society. UMBC's Erickson School—part business school, part aging studies program, and part public policy institute—is leading the way in preparing students for the unprecedented challenges and career opportunities to come in business, communications, public policy, the arts, health and wellness, travel, financial services, real estate, sports and recreation, and research. Founded with generous support from John Erickson, chair & CEO of Erickson Retirement Communities, the school's undergraduate, graduate and professional education programs take an integrated look at cutting-edge research and industry best practices in aging, policy, and management to develop innovative approaches to challenges in the field. The graduate program "goes above and beyond the MBA degree," says James Taylor, M.A. '11, CEO of Health Care (UK and Ireland) for Sodexo. "[T]he MAgS program provides specific knowledge and expertise about aging services that you can't get anywhere else." Faculty members, who are thought-leaders and practitioners in clinical and management positions, bring the world into the classroom, and students follow their footsteps into an ever-widening range of careers.
---
A LAUNCH POINT FOR LEADERS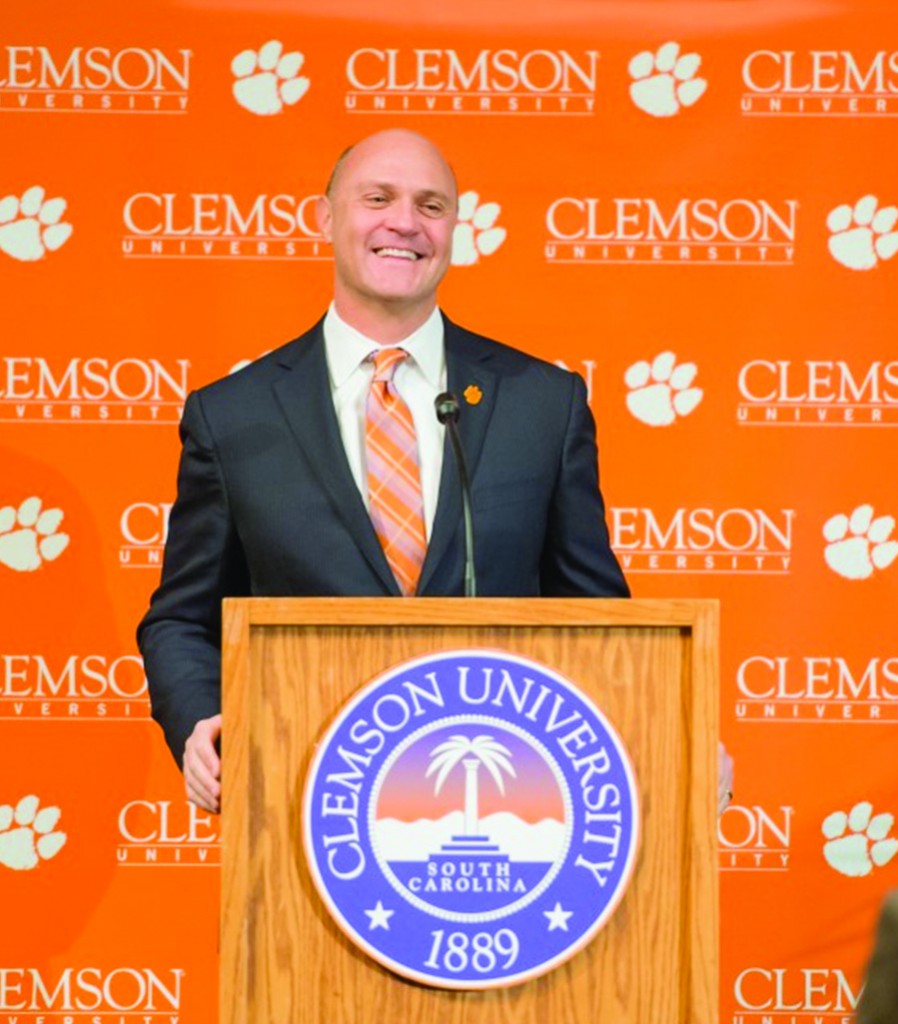 You'll find UMBC alumni making a difference at all levels
— in Baltimore, across Maryland, and on the national stage.


A NATIONAL FOOTPRINT IN HIGHER EDUCATION
Inspired by their professors at UMBC, many alumni have followed in those footsteps. Nearly 300 work in higher education as faculty members and academic leaders at such schools as Harvard, Yale, Duke, and—closer to home—University of Maryland, Baltimore, and Johns Hopkins. This group includes Clemson President James P. Clements '85, '91, '93, and University of Maryland School of Dentistry Dean Mark A. Reynolds '78, M.A. '82. Others focus on research, including Victoria D'Souza, Ph.D. '02, who pursued doctoral and postdoctoral work at UMBC and went on to achieve tenure at Harvard. University of Pittsburgh professor of biology Paula Grabowski '76 was the first UMBC alumna selected as a research fellow by the prestigious Howard Hughes Medical Institute. Vince Calhoun, Ph.D. '02, executive science officer at The Mind Research Network and University of New Mexico electrical and computer engineering distinguished professor, creates ways to understand complex brain imaging data. Of course, many alumni teach, such as Columbia University assistant professor of classics Joseph Howley '06. And some alumni who leave UMBC come back: George Derek Musgrove '97, an alumnus of Baltimore's City College High School and UMBC, returned to his alma mater after earning the Ph.D. in U.S. history at New York University to teach many of the courses that fascinated him as a student.
Nearly 70% of UMBC's 70,000 alumni live in Maryland and contribute $483 million to the state's economy annually.

– Source: Sage Policy Group

SERVING THE STATE
As a student at Arbutus Middle School, Delegate Adrienne Jones '76 could see UMBC's campus right across the street. She later earned a degree in psychology there, and went on to become the first African American female Speaker Pro Tem of the Maryland House of Delegates. All across the state, UMBC alumni serve the citizens of Maryland. In the General Assembly, former Ocean City mayor and now Senator James Mathias, Jr. '74 represents Wicomico, Somerset, and Worcester counties; Delegate Haven Shoemaker '87, Carroll County; Delegate Charles E. Sydnor III '99, Baltimore County; and Delegate Mark Chang '99, Anne Arundel County. UMBC alumni also serve in the executive branch at the state, county, and local levels. Kaliope Parthemos '93 is chief of staff to Mayor Stephanie Rawlings-Blake; Allan Kittleman '81, a former state senator, serves as the Howard County executive; Matthew Clark '00 is Governor Larry Hogan's director of communications; and Brady Walker '08 is special assistant to Secretary of Commerce Mike Gill.
A PEACE CORPS FOR BALTIMORE
UMBC is training the next generation of leaders to address urban and social problems at home using the experience they gained abroad as Peace Corps volunteers. Shriver Peaceworker Fellows pursue graduate study while continuing their service work locally. Although just 15% of UMBC Peaceworkers come from Maryland, over 50% are choosing to stay and serve the Baltimore-DC region after completing the program. Katie Long, M.A. '08, who had volunteered in the Peace Corps in Honduras before joining the Peaceworker program, went on to become the program director and Hispanic liaison for the Friends of Patterson Park, which in a very short time has become a national model for serving diverse communities. Her outstanding work there led to an appointment to the Mayor's Hispanic commission. Other alumni have brought their expertise and aid to Baltimore through work in the Mayor's Office of Homeless Services, Patterson Park Public Charter School, Lakeland Elementary Elementary/Middle and other public schools, the Annie E. Casey Foundation, the Association of Baltimore Area Grantmakers, and many community non-profit organizations, as well as state and federal agencies.
"Peaceworker Fellows answer the call to serve and contribute —making a positive impact on the challenging issues we face at home and abroad today."

— Joby Taylor, Ph.D. '05
Director, Peaceworker Fellows Program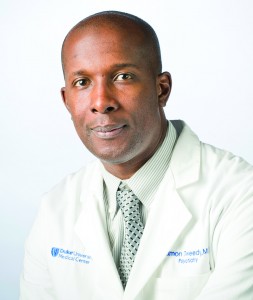 UMBC ALUMNI MAKE A DIFFERENCE IN…
…HEALTH CARE
Kafui Dzirasa '01, chemical engineering
Principal investigator, Duke University Laboratory for Psychiatric Neuroengineering
Assistant Professor, Department of Psychiatry & Behavioral Sciences
Crystal Watkins Johansson '95, biological sciences
Director, Sheppard Pratt Memory Clinic in Neuropsychiatry
Assistant Professor, Psychiatry & Behavioral Sciences, Johns Hopkins School of Medicine
Lauren Schnaper '71, psychology
Director, GBMC Sandra and Malcolm Berman Comprehensive Breast Care Center
Associate Professor, Surgery, University of Maryland School of Medicine
Reid C. Thompson '85, biological sciences
Chair, Department of Neurological Surgery, Vanderbilt University School of Medicine
Damon Tweedy '96, biological sciences
Author, Black Man in a White Coat: A Doctor's Reflections on Race and Medicine
Assistant Professor, psychiatry, Duke University Medical Center
Physician, Durham VA Medical Center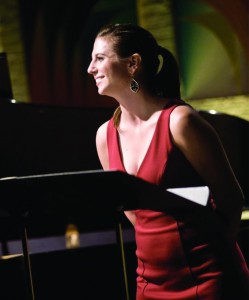 …ARTS
Christie Finn '07, music
Vocal performer & poet
Co-founder, NOISE BRIDGE experimental music duo
Lafayette Gilchrist '92, Africana studies
Jazz pianist and composer
Leader, Lafayette Gilchrist and the New Volcanoes
Gary Kachadourian, M.F.A. '12, imaging & digital arts
Artist, Baker Artist Award winner
Robin Masella '07, dance
Dancer, performed with "Chicago" national tour and off-Broadway "Trip of Love"
Deb Randall '94, theatre
Founder, The Venus Theatre
William Whiteford '80, interdisciplinary studies
Filmmaker, Academy Award winner for short documentary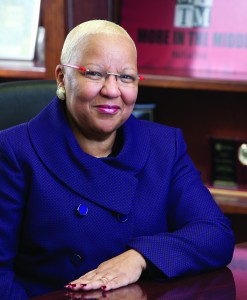 …NON-PROFIT SECTOR
Chuck Adkins '01, interdisciplinary studies, M.A. '12, sociology
Chief Financial Officer, Baltimore Office of Promotion and the Arts
Diane Bell-McCoy '73, sociology and social work
President & CEO, Associated Black Charities
Richard Compton, M.A. '08, management of aging services
CEO (ret.), Broadmead
Joseph T. Jones, Jr. '06, social work
Founder & CEO, Center for Urban Families
Kevin Maxwell, Ph.D. '02, Language, Literacy & Culture
CEO, Prince Georges County Public Schools
Aaron Merki '05, political science
Co-founder, FreeState Legal
Program Officer, Harry & Jeanette Weinberg Foundation
Kevin Griffin Moreno '06, history
Interim Director, Community Investment, Baltimore Community Foundation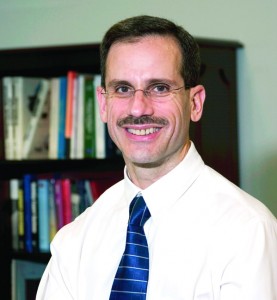 …SCIENCE & TECHNOLOGY
Andre Gudger '99, information systems management
Acting Deputy Assistant Secretary of Defense, Manufacturing
and Industrial Base Policy
Stephanie Hill '86, computer science, economics
Vice President & General Manager, Lockheed Martin RMS, Ship & Aviation Systems
Chair, Greater Baltimore Committee
Claudia Pearce, M.S., '89, Ph.D. '94, computer science
Senior Computer Science Authority, National Security Agency
Ralph Semmel, Ph.D. '92, computer science
Director, JHU Applied Physics Laboratory
Christopher Valentino '02, M.S. '06, information systems
Director of Strategy, Cyber & Intelligence Mission Solutions, Mission Systems,
Northrop Grumman Corporation
…ENTREPRENEURSHIP
Jeehye Yun '96, computer science

Mike Adelstein '96, biochemistry and molecular biology
President & CEO, Potomac Photonics

Danielle Burnett '00, M.S. '05, information systems
Founder & President, Applied Technology Services
Greg Cangialosi '96, English
Co-founder & Chair, Betamore
Chair, Baltimore Angels
Eric Conn '86, computer science and math
Co-founder & CEO, Leverege LLC
Robert Marshall '88, mechanical engineering
Founder & CEO, Earth Networks
Scott Rifkin '81, biological sciences
CEO & Managing Partner, Mid-Atlantic Health Care
Jeehye Yun '96, computer science
Founder & CEO, RedShred