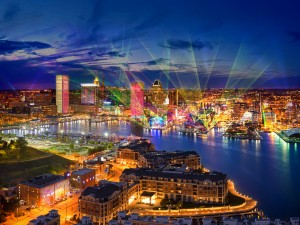 March 28 – April 2
6 – 9 p.m.
Downtown Baltimore
Stop by the UMBC Black and Gold Lounge in the Columbus Center (get directions) for a hot beverage and free glow-in-the-dark UMBC swag while you're passing through Baltimore's inaugural celebration of light and ideas. The lighting begins downtown at 7 p.m., so we hope you'll plan to arrive around then! Plus, check out these free special receptions we've planned for alumni groups:
Within the Black and Gold Lounge, you'll also be able to test out UMBC's new Retriever Stories site, where members of the UMBC community can tell stories of the university's past and present, and  representatives from the Albin O. Kuhn Library archives will be on hand Tuesday and Friday to talk UMBC history.The UMBC Bookstore will also be on site with 50th Anniversary and UMBC merchandise.
What is Light City?
Several members of the UMBC community will be showing work at Light City, including Symmes Gardner, director of UMBC's Center for Art, Design and Visual Culture, who will exhibit a video installation titled "1,001 Lux;" UMBC associate professors of visual arts Kelley Bell, M.F.A. '06, imaging and digital arts, andCorrie Parks, who will display a new work, "Project Aquaculture," at the Columbus Center; and Colette Searls, chair of UMBC's theater department, who will be exhibiting a work that combines animation, live theater, and puppetry featuring a crab named Kendra.Mina Cheon, M.F.A. '02, imaging and digital arts, will exhibit an installation of light sculptures called Diamonds Light Baltimore,  Adam Trice '04, English, will perform with the band Red Sammy, and staff member Delana Gregg M.A. '04, ISD, will perform with the group Fluid Movement.
UMBC will be a founding sponsor of LightCityU: Powering Social Change, a series of conferences (held concurrently with Light City) that will explore social innovation, health innovation, sustainability innovation, and creative innovation. UMBC President Freeman A. Hrabowski, III, will deliver keynote remarks at the social innovation conference on March 29.
For more information about Light City and Light City U, visit lightcity.org.
Additional Information
Light City U Discounts for UMBC Community
UMBC community members can get a significant discount on registration for Light City U, a series of conferences bringing together innovators, thought leaders and change-makers across four key industries to explore one question: How do we become a more responsible and equitable society? Use the code "spring2016" to purchase individual conference tickets for $99.
Light City App
Want to learn more about Light City on the go? Check out the new Light City app here:
Sponsorship
The Black and Gold Lounge has been supported through a generous gift from: