"A Catonsville University Turns Golden"
Baltimore Sun: UMBC at 50
September 7, 2016 9:38 AM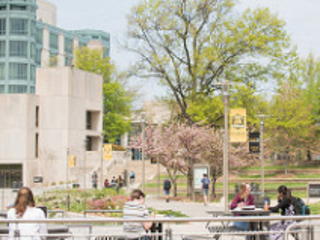 UMBC celebrated the start of its 50th anniversary year with a high energy Welcome Week greeting 2,800 new students and with a landmark newspaper headline: "A Catonsville university turns golden."
As new freshman and transfer students began their UMBC journey, President Freeman Hrabowski shared with Catonsville Times reporter Jon Bleiweis what first drew him to the university. "There were a lot of high-achieving people here who wanted to be rebellious and crossing disciplines and solving problems," Hrabowski said. "I wanted to be a part of that story."
The article highlights UMBC's growing national reputation in both teaching and research, including the most recent U.S. News & World Report rankings, which placed UMBC fourth in the nation in innovation and sixth in undergraduate teaching, in a list dominated by Ivy League schools.
"What they say," Hrabowski told the paper, "is we are the national model for the combination of academic innovation and inclusive excellence, a place where students can come from all over the world — and from Catonsville — and do superbly."