Take a walk through this timeline of significant milestones in UMBC's history — from its beginnings as a plot of Baltimore County farmland to an increasingly prominent public research university — and you'll see moments of grit and greatness all along the way.
This is a living document, meant to change over time. Click on any image to enlarge.
Skip To >> 1960s  I  1970s  I  1980s  I  1990s  I  2000s  I  2010s

1960s
1960
The Warfield Commission, appointed by Maryland Gov. John Millard Tawes, issues "A Plan for Expanding the University of Maryland," which suggests transforming the state's public teaching colleges (Towson, Frostburg, and Salisbury) into liberal arts institutions and creating three additional university centers.
1962
1963
The Maryland General Assembly passes a bill to establish UMBC as one of four additional campuses of the University of Maryland. The legislation is the fruit of four state commissions – dating back to the mid-1950s – that recommended expansion of higher education in Maryland.
WHEREAS, Baltimore County is blessed with a number of science-based industries which are currently engaged in highly specialized research and development work and a graduate branch of the University would undoubtedly be of great assistance to these industries and would attract new industry into the metropolitan region." (Senate Bill 73, Approved April 30, 1963)
The University of Maryland's Board of Regents approves a location for UMBC: A 435-acre tract of land operated by Spring Grove State Hospital. The site was suggested by Maryland Comptroller Louis L. Goldstein, and the hospital's donation of the site saves the state millions of dollars in costs to acquire land for the campus.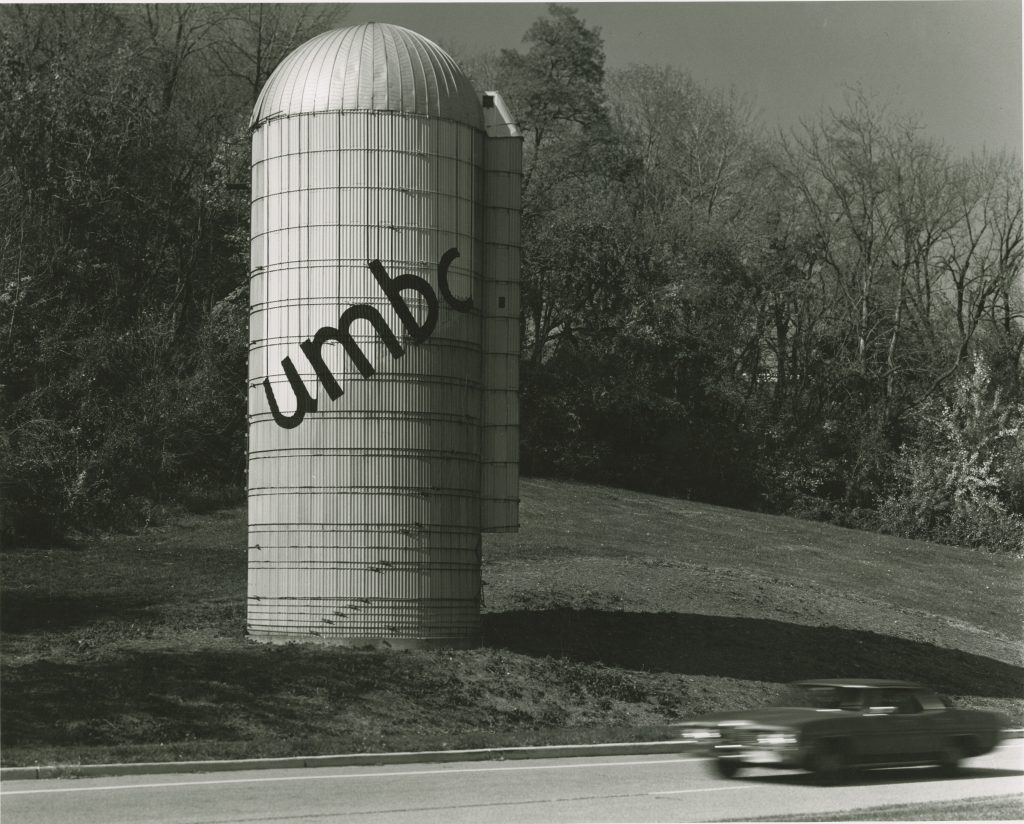 1965
Albin O. Kuhn is named as vice president of the so-called "Baltimore Campuses" – UMBC and University of Maryland, Baltimore. (In 1967, he is named as UMBC Chancellor.)
Ground is broken at UMBC.
David T. Lewis is hired as the first faculty member, heading the division of social sciences. He lectures on world populations, race relations, and even organizes a series of lectures on the energy crisis in the 1970s. Before he retires in 1985, he coordinates a documentary photography project on East Baltimore that becomes a book, Neighborhood: A State of Mind.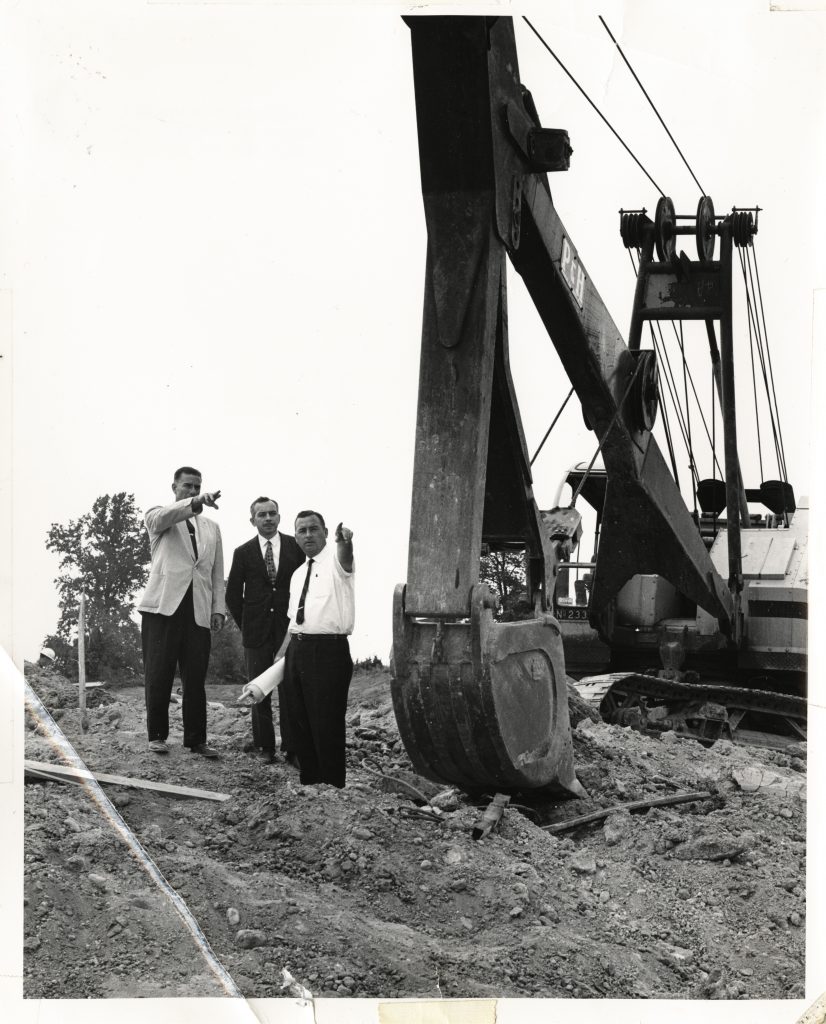 1966
With applications already exceeding the anticipated 500 students, UMBC prepares for a year of firsts. The entire community is involved in the school's opening. On the eve of opening day, twenty people show up and spend a Sunday tidying up the buildings, "including one lady who had read that we were opening and just came down to see if anything needed dusting," Dr. Albin O. Kuhn said.
UMBC opens its doors on September 19. On its first day of classes, the campus consists of three buildings: Gym I, Lecture Hall I, and a portion of the present-day Biological Sciences building. UMBC had 750 students, 45 faculty members, 35 support staff, and 500 parking spaces. The newspaper that would become The Retriever carries an article written to students by chancellor Albin O. Kuhn: "We do not expect UMBC to be quite like any other campus. Each of you brings individual backgrounds, talents, and education to our new campus. Collectively, you are a different student body from any previously assembled. In working with the faculty and staff of UMBC, make the most of this opportunity to help create a center of learning in which those who give their best in the laboratory and on the playing field develop a brilliance that is the mark of their efforts and the UMBC environment." 
UMBC's first student is Gabija Brasauskas Blotzer '70, English, who chooses UMBC after her housing application to University of Maryland College Park is lost. She returns to UMBC twice after graduation to get teaching certificates in English and Latin.
UMBC plays its first intercollegiate game on November 4, a spirited 4-1 loss by the men's soccer squad to the University of Maryland, College Park.
1967
Students enter a contest to choose UMBC's mascot, suggesting unicorns, angels, muskrats and crabs. But UMBC chooses the nomination of the Chesapeake Bay Retriever. And soon after, UMBC receives a donation of a puppy, its first live mascot, who lives at the Catonsville home of Guy Chisolm, UMBC's first director of physical plant.
In April 1967, Otis Redding performs "Soul Sound of 1967" at a semi-formal dance in the gym during the university's first "spring week." "Awesome Otis is coming!" trumpeted the headline in the Retriever. The concert, also featuring Redding's twelve-piece band, the Upsetters, is broadcast to overflow crowds in the cafeteria. The legendary soul singer would die eight months later in a plane crash.
The men's basketball team plays its first varsity contest after a year on the club level, dropping a 73-63 verdict to Catonsville Community College. The team would finish its first season at 4-7.
The Baltimore Colts play UMBC in basketball and the baseball team plays its first game. The first varsity men's lacrosse game ends in defeat to Loyola College and men's basketball plays its first varsity contest after a year on the club level.
UMBC announces its first Winter Session. It is the first university in Maryland to offer such classes.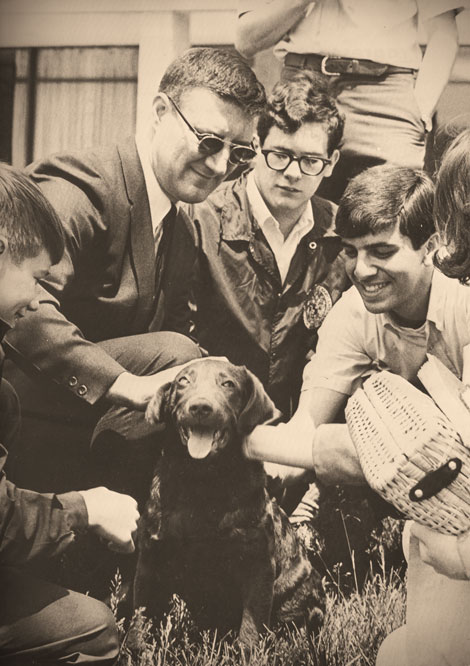 1968
Phase I of the university library opens.
Debates spring up on campus on college and societal topics. A "Vietnam Teach-In" is held with opposing viewpoints represented and a "Time Out Day" focuses on issues facing students on campus and in larger society.
On January 9, the men's basketball wins its first intercollegiate game, an 84-75 triumph over Eastern College of Commerce.
Men's and women's tennis play their first matches.
1969
The campus literary magazine, Dialogue, publishes a series of soft-focus nude photographs by artist Robert Stark, depicting a male and female dance duet. The publication draws criticism from legislators, despite the photos hanging in an exhibit at the same time at the Corcoran Gallery of Art, and creates rifts between UMBC administrators and the university's faculty and students. Read more in UMBC Magazine.
The UMBC's women's basketball team forms without a coach. They play (and win) their first game on January 11, 1969.
In the year of Woodstock, UMBC's Sage Players stage "Keep the Peace, Baby," a rock musical version of the classic Greek comedy, "Lysistrata," newly translated by ancient studies faculty members Jay Freyman and Walt Sherwin. The play centers around a plot by Greece's women to deny their husbands sex until they sign a peace treaty to end the Peloponnesian War. The cast, dressed in bell bottoms, flared mini-dresses, and sandals, for the play, including a rollicking number called, "Keep Those Fig Leaves Swinging, Boys."
Professors Walt Sherwin, Jay Freyman, and Rudy Storch found UMBC's first overseas study program, "Rome: Ancient and Modern," leading 42 students on a three-week tour that included stops in London and Paris, followed by two weeks in Rome.
The physical campus continues to grow with the opening of the Mathematics/Psychology building.
1970s
1970
Commencement for UMBC's first graduating class is held on the Quad. In all, 241 students are granted degrees. See a slideshow of Undergraduate Commencements throughout the years.
UMBC's first dormitory opens, housing 118 students. Two more dormitories and a dining hall follow by 1973.
A sit-in is staged by students protesting faculty hiring and firing policies and the lack of reinstatement of four specific instructors. Students continue with a sleep-in and hold a peaceful rally the next day attended by 300. One result was the Faculty Senate's acceptance of student representation on committees reviewing faculty and the development and use of an instrument measuring teacher effectiveness.
In September, UMBC is officially accepted into its first athletic conference, the Mason Dixon Athletic Conference. UMBC remains a member of the MDAC through 1978 and again from 1983-86.
Following the Kent State shootings on May 4, students and faculty protest, picket and conduct teach-ins. A rally ends with a march to the Catonsville Selective Service Board office and the Catonsville Armory.
1971
Albin O. Kuhn resigns. After a nationwide search, Calvin B. T. Lee, the acting president of Boston University, is named as UMBC's second chancellor for the 2,800 students.
Thinking big, the Faculty Senate recommends that UMBC seek to increase total enrollment of 10,000 to 15,000 students.
Lecture Hall II, the Dining Hall, the Chemistry building, Dorm II (Chesapeake Hall), the physical plant building, as well as the campus greenhouse open. In the greenhouse, plant biology students and professors have studied plant immunity, drought resistance, and the development mechanisms of green algae.
The Fine Arts, Social Sciences, and Administration buildings open.
1972
The Women's Union forms and the first women's studies course is offered. Gender and Women's Studies majors have gone on to work in women's health care, equity economics, and as attorneys, teachers, and human rights advocates.
The fencing team, UMBC's only co-ed sport, debuts against Johns Hopkins. The program continued for eight years. Now a club, UMBC Fencing provides fencing instruction and competition experience to students.
The UMBC Symphony is founded by Robert Gerle, a noted concert violinist, conductor, and professor. A Hungarian Jew, Gerle spent years in a labor camp in Budapest, then escaped as the Soviets approached. In 1945, he was discovered hiding in a crawl space over a music professor's apartment with 26 other Jews, who were lined up on a firing squad. The officer in charge, noting the violin case in Gerle's hand, asked him to play a work by Tchaikovsky. All 26 men were released after he played. Gerle emigrated to America and played in orchestras before beginning the UMBC orchestra program, where he remained for two decades.
The first computer on UMBC's campus arrives, a massive punch-card machine. The Univac 9400 took up an entire room, and students waited for days for the computer to crunch the data on their fruit fly study or math equations. The first programming class, in Fortran, is also offered this year.
1973
The Fine Arts Building, the Social Sciences Building, and Administration Building open.
Men's basketball wins the Potomac Intercollegiate Conference Championship.
UMBC Department of Theatre presents T. S. Eliot's "Murder in the Cathedral," which is the first university production selected for the American College Theatre Festival at the Kennedy Center.
Senior class president Steve Rothfield, '73, sociology and education, invites noted psychologist B. F. Skinner to give the commencement address and receive an honorary degree. Skinner's audience was receptive; psychology was UMBC's most popular undergraduate major this year, with 140 graduating with a psych degree out of the 543 undergraduate degrees.
UMBC awards its first graduate degrees.
1974
The UMBC Department of Theatre presents

You're A Good Man Charlie Brown

. The production is a finalist in the American College Theatre Festival at the Kennedy Center. UMBC's theater department has made

seven trips

to university theater's most prestigious competition. 

Men's baseball standout

Mel Hammel, '76, history

, pitched the first UMBC no-hitter in a 20-0 win over Coppin State.

Delta Sigma Theta sorority established its UMBC Lambda Kappa chapter. Sorority members would go on to hold voter education campaigns, pack boxes of donations for charities, and nominate UMBC students for their Black Girl Excellence awards.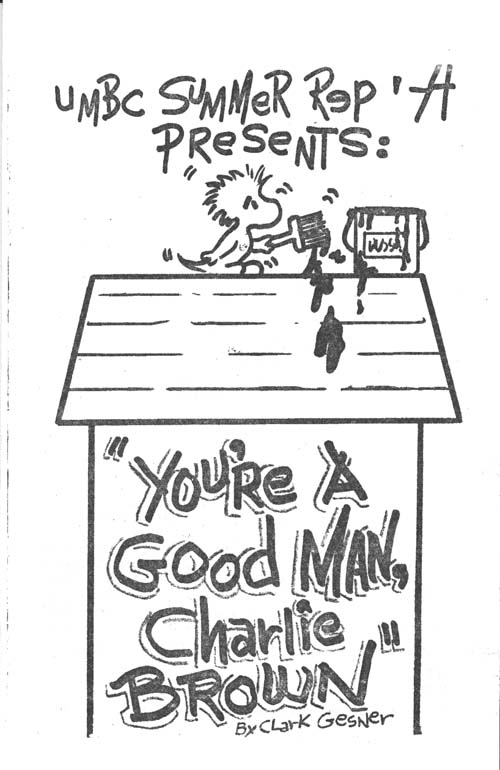 1975
The Office of Cooperative Education is created at UMBC. This office was the forerunner of today's

Shriver Center

, which is established in December 1993.

UMBC's library, now known as the Albin O. Kuhn Library and Gallery, is expanded, starting this year, with the east wing. The unfinished concrete exterior, modeled in a Brutalist architectural style, is recognized by the Baltimore Chapter of the American Institute of Architects with their highest honors.

In December, the men's cross country team wins its first Mason Dixon conference title, capping a perfect 10-0 season.
1976
UMBC awards its first Ph.D., in applied mathematics.

After a spring semester of strong opposition from faculty and students, Chancellor Calvin B.T. Lee resigns his position. Louis L. Kaplan, former chancellor of the University of Maryland's Board of Regents, is named as the interim chancellor.

Students protest over tuition fee increases and debunked rumors of cell blocks in the UMBC police building. 

The first homecoming is held in February 1976,

with the Almost Anything Goes tournament, where student organizations competed against each other for prizes; a club volleyball tournament; a pep rally; and a basketball game against the Towson Tigers. Homecoming has evolved to be held in the fall, featuring comedians such as Jim Gaffigan, Trevor Noah, Bo Burnham, and Ali Wong.
1977
John Dorsey – Administrative Vice President at the University of Maryland, College Park – is appointed as UMBC's third Chancellor.
"Most importantly, [UMBC Acting Vice Chancellor Robert K.] Webb said UMBC must provide 'programs to catch up with the quality of the faculty we've got.' He said UMBC's role in the Baltimore area was a distinctive one. 'It's the only publicly supported university in the genuine sense of the term.' " – The Retriever Weekly, August 29, 1978
The men's soccer team becomes the first UMBC team to compete in a postseason NCAA tournament.

Men's basketball earns its first win over a Division I program, defeating Madison College (later James Madison University), 82-80.  

UMBC stages its first opera, Mozart's "The Marriage of Figaro," directed by Xerxes Mehta. With a live orchestra of sixteen, the opera is the first cooperative production by the departments of music and theater. 

The

Camerata choir

is established, with sixteen auditioned singers performing madrigals, folk songs, spirituals, and new works. The choir will go on to perform with the Handel Choir of Baltimore and the Howard County Concert Orchestra.
1978
Despite its growing resident student population, UMBC is still largely a commuter campus. By the end of the 1970s, the university will have over 3,000 parking spaces. The first parking meters are installed in 1978, with a fee of 10¢ per hour.
1979
After almost a decade of graduations, UMBC creates an official Alumni Association.
UMBC's innovative Option II program, established in 1969 to allow students to develop their own courses of study, becomes the Interdisciplinary Studies department.
The Retriever men's basketball squad — ranked number six in the nation — advances to the NCAA Division II tournament quarterfinals, losing at home to Naismith Memorial Hall of Fame coach John Chaney's Cheyney State team.
UMBC creates a master's degree program in instructional development.
1980s
1980
The Emergency Health Services department is founded. It is one of the first such programs in the nation.
UMBC men's lacrosse team wins the NCAA Division II national championship. It is the university's only team intercollegiate title. The next year, the university moves to Division I in the sport.
1981
Media reports that Sheldon Knorr, executive director of the Maryland Higher Education Commission, will propose that UMBC be shut down and turned into an industrial park create a campus firestorm. Students, faculty and administrators rally to defend the university.
"Photographers snapped away as [UMBC Chancellor John] Dorsey deplored the 'unfortunate incident.' Saying the newspaper reports were 'demoralizing and damaging,' Dorsey asserted that 'if the threat is real, we are prepared to fight it.' " – The Retriever Weekly, March 4, 1981
1982
The Maryland Institute for Policy Analysis and Research is founded.
University Center opens.
1984
The Image Laboratory – precursor to UMBC's Imaging Research Center – is founded.
1985
UMBC's modern languages and linguistics department is among the first programs to adopt "immersion" techniques in acquisition of languages.
1986
Chancellor John Dorsey resigns. Bennington College president Michael Hooker is named as UMBC's fourth Chancellor.
"The knowledge discovered and created in universities will be the fuel rods powering the economy of the 21st century." – Michael Hooker
UMBC undertakes comprehensive strategic planning for the first time in its history, partly in response to critical comments from the Commission on Higher Education of the Middle States Association of Colleges and Schools.
1987
1988
The Meyerhoff Scholars Program is founded. The effort becomes internationally renowned for its advancement of diversity in the sciences and engineering, and creates a model for pedagogical innovation across UMBC's campus.
1989
A proposed merger between UMB Cand the University of Baltimore is voted down by the University System of Maryland's Regents. Two years later, in 1991, a different merger plan for UMBC and the University of Maryland, Baltimore wins approval in Maryland's House but is not taken up by the State Senate.
1990s
1991
The university issues its first comprehensive strategic plan – Advancing the Greater Baltimore Region: The Strategic Enhancement of UMBC. The focus of the plan is bolstering the university's strengths in the sciences, engineering, mathematics and technology – as well as in public policy.
1992
UMBC establishes a College of Engineering.
Michael Hooker leaves UMBC to become president of the University of Massachusetts system. UMBC's executive vice president, Freeman A. Hrabowski, III, is named as interim president.
1993
Hrabowski is formally named as UMBC's fifth President.
"We will continue to strengthen our arts and sciences programs, for the benefit of all our students. We will be a national leader in educating students in science and engineering, including minorities and women. And we will continue to focus on issues of diversity." – Freeman A. Hrabowski, III, Installation address as President of UMBC
1995
UMBC rebrands itself as "An Honors University in Maryland" – a new title that reflects the institution's achievements and aspirations.
The Joint Center for Earth Systems Technology (JCET) − a cooperative agreement between UMBC and the NASA Goddard Space Flight Center – is established.
UMBC women's volleyball wins the Big South conference title.
1996
Scott A. Bass becomes the UMBC Graduate School's first full time dean. The position was previously shared with the University of Maryland, Baltimore.
UMBC marks its 30th anniversary with an addition to the Albin O. Kuhn Library and a "Mindfest" that celebrates the intellectual life of the university.
UMBC holds its first Undergraduate Research and Creative Achievement Day (URCAD) – a demonstration of the university's commitment to excellence in undergraduate education.
1997
UMBC begins its first capital campaign with a goal of raising $50 million. By the campaign's end in 2002, it has raised $66 million.
After more than a decade of protests and lawsuits, construction begins on bwtech@UMBC − a research park at the university. The process also yields the 50-acre Conservation and Environmental Research Areas (CERA), with much of it adjacent to the new research park.
1998
UMBC students are inducted into the university's new chapter of Phi Beta Kappa.
The Center for Women in Technology (CWIT) is founded by Joan Korenman – a professor of English and director of the UMBC's gender and women's studies department.
UMBC women's tennis wins the second of two consecutive conference championships, and qualify for their first-ever NCAA tournament.
2000s
2000
UMBC's Honors University Task Force issues its final report. Among its recommendations are making "the rigorous ways of learning" offered through selective programs at the university available to the wider student body.
Alex. Brown Center for Entrepreneurship is founded.
2001
The gap between the percentage of commuter and resident students narrows to 20 percent.
2002
The Commons opens on the site of the former Gym I. The flags of the world on the building's Main Street celebrate UMBC's diversity.
The UMBC Women's Center celebrates its 10th anniversary.
UMBC women's lacrosse makes its first NCAA tournament appearance.
Women's softball beats Liberty, 7-1, in the 2002 NCAA Tournament.
2003
UMBC Athletics joins the America East conference.
On the 25th anniversary of the Meyerhoff Scholars Program, UMBC boasts an array of similar programs attracting students across disciplines with more to come in the next decade – including Linehan Artist Scholars, Humanities Scholars, CWIT Scholars, Sondheim Public Affairs Scholars and Sherman Scholars (STEM education).
An intense period of strategic planning for the university results in Framing the Future: A Strategic Framework for 2016.
OUR VISION
"UMBC: An Honors University in Maryland seeks to become the best public research university of our size by combining the traditions of the liberal arts academy, the creative intensity of the research university, and the social responsibility of the public university. We will be known for integrating research, teaching and learning, and civic engagement so that each advances the others for the benefit of society." – Framing the Future
2004
Erickson School of Aging Studies is founded.
UMBC men's swimming wins its first America East Championship title.
2005
2007
President Hrabowski joins 330 college and university presidents in signing the American College and University Presidents' Climate Commitment.
UMBC women's basketball earns its first NCAA tournament bid.
2008
UMBC's men's basketball team wins the America East Conference Tournament and earns school's first NCAA men's tournament bid.
2009
UMBC is named the #1 "Up-and-Coming School" by the editors of U.S. News & World Report's "America's Best Colleges" guide. It maintains this lofty ranking for five years.
2010s
2010
The College of Natural and Mathematical Sciences (CNMS) Active Science Teaching and Learning Environment – better known as CASTLE – opens its doors in the University Center. The CASTLE extends on the successes of the Chemistry Discovery Center as an engine of innovation in undergraduate learning.
Ayers Saint Gross creates a new master plan for UMBC that reflects the university's growth beyond Hilltop Circle and south to the bwtech@UMBC complexes.
2011
2012
UMBC opens the first phase of its new Performing Arts and Humanities Building with a ribbon-cutting and campus celebration.
Freeman A. Hrabowski, III, celebrates his 20th anniversary as UMBC's President by establishing a new fund for innovation in teaching at the university. He is also named as one of Time magazine's "100 Most Influential People in the World."
"You know, there is a level of greatness we've achieved at UMBC that people rarely appreciate, and it has to do with the spirit of this community. It's a spirit in students, faculty, staff and alumni that focuses on serving…. People at UMBC may have different points of view and disagree, but there is a belief in the importance of the common good. A belief in the importance of what makes us a great university and a great community." – Freeman A. Hrabowski, III, UMBC Magazine, Winter 2013
The university formally commences a new strategic planning process with a series of campus conversations. The process will result in a new strategic plan for UMBC that will coincide with the university's 50th anniversary in 2016.
Retriever men's soccer advances to the second round of the NCAA tournament for the second time in two years.
2013
We are the World: The College of Arts, Humanities, and Social Sciences (CAHSS) creates a new major in Global Studies, and the College of Engineering and Information Technology (COEIT) introduces a Global Engineering track to its traditional engineering studies.
UMBC women's soccer caps a stunning reversal from last place in the conference to first place in a single season with a bid to the NCAA tournament.
2014
Phase Two of the Performing Arts and Humanities building opens.
UMBC's total fall enrollment exceeds 14,000 students for the first time, including 11,200 undergraduates and 2,800 graduates students from 48 states and more than 100 countries.
2015
UMBC's endowment reaches more than $76.6 million, the university's highest level to date.
The university formally announces plans for a new Event Center and Arena, which will house numerous athletics and community events and bring the UMBC's commencement back to campus in 2018.
Hassan Omar '16, mechanical engineering, became the first Retriever to earn individual gold at the America East Cross Country Championships, capturing the title at Stony Brook. Two weeks later, he became the first UMBC cross country athlete to compete at the NCAA Division I national championships.
A UMBC team of students worked for three semesters to build Kraken Upcycle, a prehistoric sea monster on wheels made from plastic grocery bags, shredded water bottles, and wire. The machine won the 17th annual East Coast Kinetic Sculpture Race hosted by Baltimore's American Visionary Art Museum.
The National Institutes of Health awarded UMBC more than $18 million to create STEM BUILD at UMBC as a national model to broaden the range of students who complete STEM degrees. U.S. News & World Report has featured this new program as a promising, scalable approach to providing mentorship and research experience.
The Northrop Grumman Foundation invested $3.1 million to support Baltimore students, from kindergarten through college, in partnerships with UMBC and Baltimore City Public Schools. The programs included an expansion of UMBC Cyber Scholars and a new initiative to boost science, technology, engineering, arts, and math education at three city schools.
2016
UMBC celebrates its 50th anniversary with a three-day event on campus. More than 3,300 alumni, students, faculty, and staff from across the campus community came together to attend the events, which included a puppy parade, a costumed Golden Ball, storytelling, a Lego model of the campus, hands-on demonstrations and lectures across disciplines, athletics events, and a fireworks show to cap it off.
Three UMBC students who bonded building houses for Habitat for Humanity buy a hot dog cart from Ebay and start a farmers market street food location. Steve Chu, '12, economics, Nikhil Yusupriya '13, biology and English, and Ephrem Abebe '13, information systems, find success with their cart, and later open two sit-down Baltimore locations of their restaurant, Ekiben.
The π2 Immersive Reality Hybrid Reality Lab opened in the Information Technology/Engineering Building, with almost 180 degrees of LCD screens. Funded by a grant from the National Science Foundation, the lab allows visitors to put on 3d glasses and dive into a virtual world powered by sensor-driven, body-centric computers.
2017
Emily Escobedo '17, psychology, concluded her historic career as a Retriever with a bronze medal in the 200 breaststroke at the 2017 NCAA Championships. She earned her second All-American accolade.
The Retriever baseball team won its first-ever America East title and headed to the NCAAs for the first time since 2001.
Deborah Rudacille, an English professor, received a Guggenheim Fellowship to pursue a writing project on addiction, as one of just two recipients nationwide for science writing in 2017.
The UMBC Cyber Dawgs won the top prize in the National Collegiate Cyber Defense Competition.
The Association of American Colleges and Universities selected UMBC as one of 10 institutions nationwide to launch a Truth, Racial Health, and Transformation initiative to prepare "the next generation of leaders to advance justice and build equitable communities."
UMBC Mock Trial competed in its first national championship.
* * * * *
CREDITS
This timeline of UMBC history is a work in progress. Special thanks for help in creating this presentation (providing charts, identifying source materials and suggesting interpretive threads) are due to:
George LaNoue, professor of political science and public policy, and the author of the book, Improbable Excellence: The Saga of UMBC (Carolina Academic Press).
The staff of the Special Collections Department at the Albin O. Kuhn Library, especially Tom Beck (chief curator, now retired) and Lindsey Loeper '04 (university archivist).
The staff of UMBC's Office of Institutional Research (OIR), especially Michael Dillon (associate provost) and Connie Pierson '90, M.A. '92 (assistant director).
The Creative Services Department of UMBC's Office of Institutional Advancement, especially Jim Lord '99 (design director) and Marlayna Demond '11 (photographer).
UMBC's Department of Planning and Construction Services, especially Joe Rexing (university architect, now retired) and Julianne Simpson (assistant director for planning).
The timeline was conceived and written by Richard Byrne '86, Office of Institutional Advancement, with contributions from Steve Levy '85, Athletics. It continues to be expanded by university communications staff, pulling from a variety of university sources.